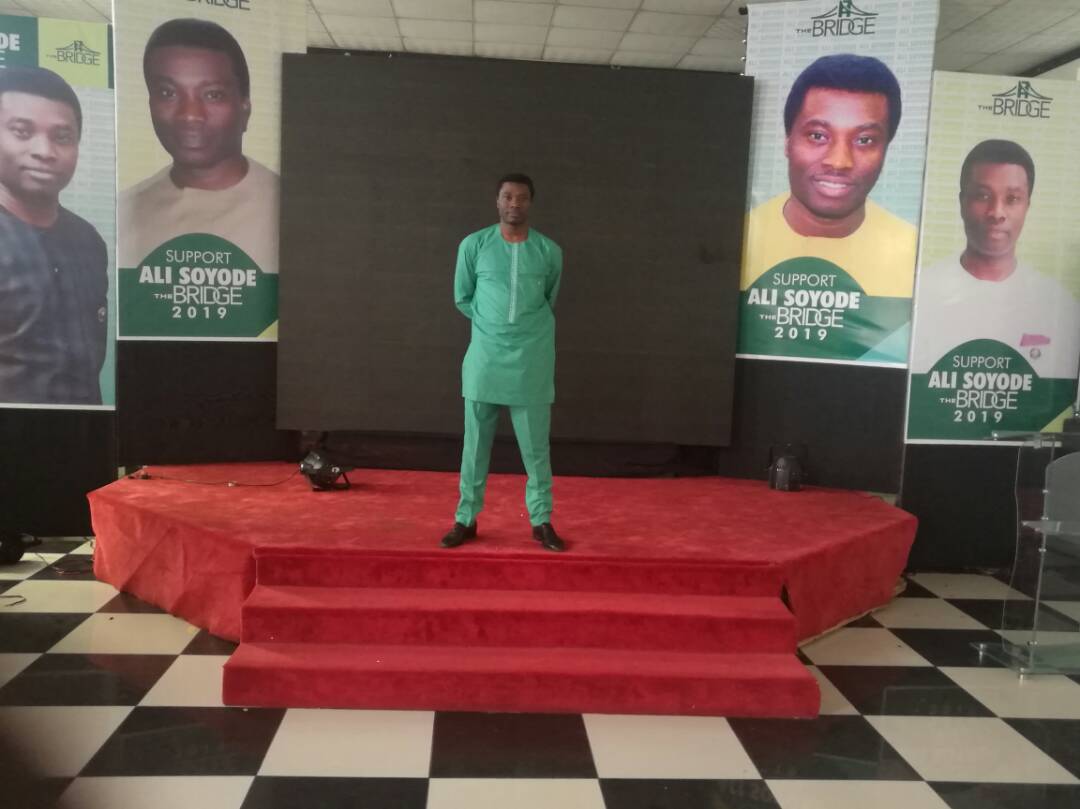 AS THE BRIDGE
Who is the Bridge?
*Ali M as we fondly called him in katsina was a brilliant sport person, engrossed and well engaged in football, athletics, racket games amongst others.*
His parents were into small businesses. His father was into supplies of commodities that we considered as amenities back in the days for those in boarding schools needing provisions.
Ali could have been one of the best academic products but he wanted to wear the green white green clothes representing Nigeria as a sport man. He did managed to take Nigeria to the World through media before the advent of today's social media platforms and distributes Nigeria's largest media change agent and channel.
How he managed to focus and complete his academic pursuit in Agriculture and Irrigation Engineering from Katsina Polytechnic was commendable. There was no doubt in his immediate circle that he's very creative & intelligent.
Ali is a rare breed of young persons whose desire is all about Nigeria. It did not surprise us years later to find out that the First black satellite channel television in Europe was founded by this Nigerian. He always keeps his head low and never allows his background to limit his abilities.
Alistair is an advocate of religious freedom and tolerance. He believes one's religion should remain a personal belief between one and their creator. He is a lover of Nigerian cultures and its ethnic diversities. He believes Nigeria is stronger, better and greater because of her cultures and ethnic diversity, though due to the sensitivity of ethnicity in Nigeria, he always keeps his silence on the subject. His father is from the South and mother from the North of Nigeria. Hence, he is referred to *AS the Bridge* in today's Nigeria's need because he naturally and biologically cuts across the South and North of Nigeria with very strong business and investment drives across the country.
*He belongs to the group of exceptional few Nigerians who combine brain, creativity, athleticism with high skills of brilliance in chosen fields. He is a visionary leader with qualitative experience acquired globally that are required in nation building.*
We have come a long way. He has never forgotten his root and people. He uses his God given time and limited resources to impact on his people and his nation. I am glad to be his friend among many and a close one.
Here is what he has to say from few of his engagements and interviews I have seen.
*AS The Bridge:*
"I moved to the UK for greener pasture just like many did. As a young man then, I wanted to join the professional football path. One thing led to another including the cold weather, work structure, legal permission etc which did not allow me to hit the right notes as early as I thought.
*To cut the story short, Nigeria was seen as a bad country in the UK, so many criminally minded people committing crimes always ended up claiming to be from Nigeria. The western media were not sympathetic at all. They always came out violently against Nigeria, though majority of these criminal elements were never Nigerians but for being black Africans, they must be Nigerians. There was no social media as seen today at the time.*
I thought about what I could do to change and counter the negative narratives from western media against my country Nigeria and her people.
Bingo – the idea of media, communications and branding struck me. That idea resulted in months of research (bearing in mind I know nothing about media), that gave birth to *BEN Television*, the first black TV channel in the whole of Europe. We started producing, presenting shows, packaging conferences and seminars to promote Nigeria and the entire black community in Europe especially the United Kingdom. These were daunting tasks being the first of its kind in any western country.
Sooner than expected, the challenges began to impact on family commitments and plans for further educational pursuit. My social life came to its lowest ebb because we needed to keep pace with the demands of our new enterprise which broke the grounds for black and ethnic media in Europe yet without any government grant or any kind of financial support.
Nigerians in Europe took pride in our stride, Africans celebrates it, Nigerians at home singing about it, the world noticed the bright and good side of the country, our efforts began to produce results, we became the alternative voice and source of genuine story for Africa and indeed Nigeria in the UK and Europe. We are daily confronted with challenges but we have never stopped, we keep marketing and promoting Nigeria with little or no reward from Nigeria's successive government.
BEN TV became a passion for us instead of a profit making business because government upon government in Nigeria were not making payments for agreed jobs and services provided. We were undeterred, we continued to strive in bringing positive profiling to Nigeria among the comity of developed nations. Infact we became the facilitator for other African and Nigerian television channels that later established in the UK, we did not see them as competitors, *we saw them as fellow compatriots, Nigerians and Africans, helped them to settle in and we took them by the hands to weather the harsh storm of British broadcasting environment.*
Glory to God for making us tools for change when Nigeria needed it. Today, it is a thing of joy to see how the hearts of grateful people of Nigeria appreciate our struggles every where we go. Now, we want to do more, we want to serve Nigerians and Nigeria.
_I never think of where I am coming from, language or tribe or think my religion is better, neither my business and social status, but I have developed constant desire to represent my black race, continent and wonderful nation of Nigeria. That is what I have been doing for more than two decades.
Through these various services, I have received various global awards, too numerous to mention. I have met majority of Nigeria's Leaders, many global leaders and Heads of States including Her Majesty the Queen of England.
Chairing the global Nigerians in Diaspora Organisation, NIDOE, the strong and independent organisation representing the best of Nigerian professionals and others numbering more than 15 millions of them and remitting more than $20 billion plus and on occasions above the national budget of Nigeria yearly is a pride for which I am grateful for.
I so much enjoyed it. This is what I do and appreciate God for making use of me and the good few people who supported.  I love my people and country like many others. I share the little resources available to me. I shall continue to mentor millions as being done so far directly and indirectly through various corporate companies, NGOs, CSO and people under the *NIDME CORP* platform.
Nigeria will become a global force, guide the black race, be better and greater in our life time.
I have learnt politics by association through friendship, training's, mentoring and leading others or interacting with them at local, state and national level including international politics.
My growing up years in Nigeria allowed me to see things doable and winnable. No matter how hard and challenging they are, there are always a way out. Thinking of the way out, i have helped others and myself to see the light and the gains."
*Unquote*
That is the Ali that I know. Playing football in the fields, engaging people as if they have known each others for years both young and old; this actually makes him look the age bracket seek in appearance. We do joke and asked "what do you eat or drink that keeps you looking-looking younger?"
For the sake of Nigeria, he is a strong person, brand globally and CNN called him an icon of Nigeria when he was featured on the global platform during Nigeria's at 50th anniversary. I am proud to say that he is one of the best patriotic Nigerians alive.
We are grateful to tag him our man and brother. A man that will build and strengthen any job given to him.
His adult life has been in the pursuit of opportunities, excellence and exemplary leadership. He is a source of pride to his family,  community and country.
Alistair Soyode is an inspiration to millions of people around the world not only Nigerians.
He has lived a life of doing the best now rather than tomorrow because he believes we have no control over our time on this earth. He shares what he has according to what he has legitimately and humbly acquired honorably, with integrity and dedication to God.
He will bring something new to the table as Nigeria goes to the poll in 2019. He is among the new breed of leaders, emerging positive agents of change and learnt skills & experiences from various leadership styles to unites and bring the best out of Nigeria.
This journey can only be real if all of us, good and well meaning Nigerians decide enough is enough and need a change of leadership. Then AS's dream and ours can become true and real.
He is ready for such a time as evident in his life, work and engagements in the name of Nigeria without any blemish both Home and Abroad. He is younger than many of the elders seeking office; exposed globally and on global affairs. He has managed and chaired the biggest global Nigerian organisation; participated on many national issues with positive commendations from our leaders and elected Executives; published the 1st Telecom magazine in Nigeria; facilitated investments into Nigeria for decades; built and developed Nigerian youths through mentoring; opened up the sporting and entertainment industries of Nigeria to the World; designed, produced and freely gave Nigeria centenary shoes to kids, just to mention a few.
Ali stated in one of his speeches
*"I am here and need your support to reach the exalted and highest office in order for our Nation to become the darling of Nigerians and the World. We have the YEEEEEEES factors* 
WE HAVE BEEN SANITIZING & EDUCATING THE ELECTORATES OVER A YEAR AT THE GRASSROOT LEVELS TO KNOW THE VALUE OF THEIR VOTES AND USE THEIR PVC VERY WISELY THROUGH THE YES NIGERIA MOVEMENT.
That is all I ask from million of electorates across the country and the supporting arms of the diaspora now. Nigerians know what is good, honest and should ensure that the right and credible candidates are given the chance to contest in a free and fair election without any intimidation by any agency of government, opponents or people.
The leadership of Nigeria at this time must show a spirit of discipline and true democracy. We all have the passion and love for our country and the belief that Nigeria will be better and greater in our time. So help me God."
Thank you 
Let's remember our Pres. PMB contested 3 times before winning in 2015. A journey of a thousand miles begin with a step.
Do remember not rebuke a young one or attack someone seeking what will better us all.
You can advice, guide and support in the best way available.
That is been a positive agent of change.
You are the winner by supporting your party or person if not us. Whatever it is, please make sure you endorses the best and most credible candidate in your party. It's Nigeria's gain to do so.
God bless and have wonderful weekend.
To know more about him or join, kindly visit
Http://www.asthebridge.org
YES – We Can
www.yesnigeria.org